Old Tom Morris
Born in St Andrews, Tom Morris Senior is remembered as a true pioneer and exponent of the game of golf. He was an accomplished champion, course designer and club-maker.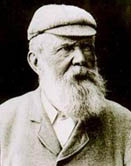 Morris grew up in a time when golf was the preserve of the affluent due to the cost of hand crafted wooded clubs and 'featherie' balls. Growing up in St Andrews, he was surrounded by golf and indeed his first job was apprentice ball maker to the famous Allan Robertson.
In fact, Robertson and Morris played as partners and were considered formidable opposition. However, their relationship soured after the Haskell ball was introduced. Morris realised that the new ball made the 'featherie' obsolete. Robertson saw the new ball as undermining his business and therefore opposed it. In the end, Morris set up his own workshop to produce clubs and balls.
In 1851, Morris moved to Prestwick as greenkeeper; the same year, his son, the great Young Tom Morris, was born. He helped to set up the Open Championship and finished second to Willie Park in the inaugural event of 1860. Indeed Morris competed in every Open until 1896 and was a 4 times winner. He returned to St Andrews in 1865 as greenkeeper and later professional.
Morris was associated with St Andrews until his death in 1908. He died a few months after sustaining injuries from falling down the stairs at the New Golf Club. A measure of his popularity is that his funeral was attended by hundreds of admirers. In recognition of his service, the R&A has hung his portrait on permanent display in it's clubhouse.