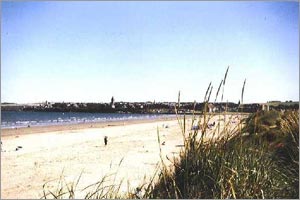 The West Sands is the largest and best known of the beaches in St Andrews. It's a flat 2 mile long beach, separated from the golf courses by a line of grassy sand dunes (bottom right in the accompanying image). It famously featured in the opening sequence of the Oscar-winning film Chariots of Fire.
The Castle Sands is the smallest of St Andrews' beaches. Located under the cliffs of St Andrews Castle, it is reached from the road (The Scores) by a steep footpath. Adjacent to the rock formations which feature heavily from here to the harbour, there's an old salt-water swimming pool.
Finally, The East Sands is to be found further around the coast, just past the harbour. This mile long beach is popular with both locals and tourists, and is home to the St Andrews Sailing Club. Also located nearby is the East Sands Leisure Centre, the only public swimming pool in St Andrews.